Almost daily, we see new smartphone launch in India. So, it has become very hard to decide what phone to buy in a specific price range. We cannot just decide based on major factors. Small factors also play major roles in the quality of smartphones. But the real problem is that most of the people just buy phones on the basic of advertisements or set of main factors like processor, camera and RAM. They ignore various other important factors just because of ignorance. This is the reason we have prepared this smartphone buying guide. Smartphone buying guide aims to explains every important feature of a phone. So that you people can decide what features you should look for.
Read this smartphone guide and take care of these instruction next time you are buying a phone
INTRODUCTION:
Now days, mobile phones have become our inseparable part of life. We even can't imagine our life without them and want a phone that should be smart enough to fulfill our requirement.
The mobile phone came into existence in year 1908 when a US patent issued in Kentuky for a wireless telephone. At that time mobile phones are not really like phone but they look like two way radios for communicating during emergency. We can refer these phones of Zero (0) generation.
The first phone that is a key player in mobile phones' history is invented by a Motorola employee names Martin Cooper in 1973.
DID YOU KNOW?
The first mobile phone which went on sale is of almost $4,000 in US year 1983.
The first mobile phone which was approved by FCC was Motorola DynaTac in US year 1983.
Now, mobile phones are not just devices to make phone calls. Mobile phones are now smart to become smartphones. We use smartphones for personal entertainment, capture photos, browsing web, checking maps to get easy navigation option, set alarms, set reminders, write notes, listen to music and and so much more. Every day, something new is added to the list of smartphone usage.
This is the buying guide for smartphone which covers every feature of the smartphone. So, you can easily get to know why you should prefer a smartphone with those features.
DESIGN:
Thickness:
Thick phones are old fashioned and difficult to fit in pockets. Same way Slim and Ultra slim phones are stylish and easy to slip into pockets.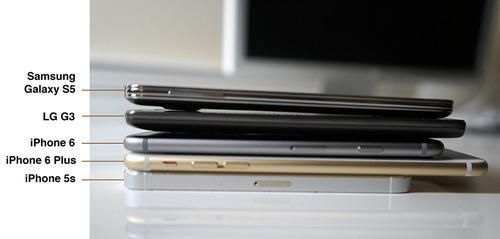 image source: yahoo.com
There are three categories in thickness of the phone:
Ultra Slim: These are the phones having thickness less than 8mm. They are easy to hold and can easily slip into pockets.
Slim: These are the phones having thickness between 8mm to 11mm. They are little bit difficult to hold.
Thick: These are the phones having thickness greater than 11mm. these phones are now old fashion. Even no smartphone is available nowadays with this thickness.
Color:
Colors give look to the smartphones which reflects the personality of the person who carries the phone of definite color. There are many colors in smart phones like red, black, white, blue, yellow etc. Colors give better look to the phones.
Weight is one of the important issues in deciding the phone for buying. Light weight phones are easy to hold for longer time and easy to carry in the pocket. If the phone is less than 140 gm then it comes into light weighted phone otherwise it is heavy weighted.
Body:
The body of the phone is divided into two categories:
Metallic body:  It has good look and has better grip but all the metallic body phones comes with non removable battery and some of metallic body phones heat up quickly.
Plastic body: Phones with plastic body are light weighted and have trendy look but there are chances of breaking on falling from certain height.
Touch screen:
Touch screen is the functioning of the smartphone by which we control or type in the phones by using finger or stylus. There are categories of touch screen like single touch, multi touch, Multitouch up to 10 fingers etc. or we can divide this category in two types:
Capacitive: one can operate capacitive touchscreen with the help of multiple fingers
Resistive: this type of touchscreen control by only a single finger. This type of screen is not much user friendly.
Keyboard Type:
There are four main categories of keypad in the smart phones:
Alpha Numeric: This keyboard came in earlier released phones. Typing with this keyboard is time consuming and also very tiresome.
Half QWERTY: They are better than alpha numeric but they too time consuming and also getting extinct from mobiles.
Physical Full QWERTY: QWERTY keyboards letter is similar to computer keyboards. They are easy in typing and popular keyboard type.
Touchscreen keyboard apps: These apps are for touch screen smartphones which provide same QWERTY platform for typing. The touchscreen keyboard app works with the movement of the finger on it.
Ruggedness: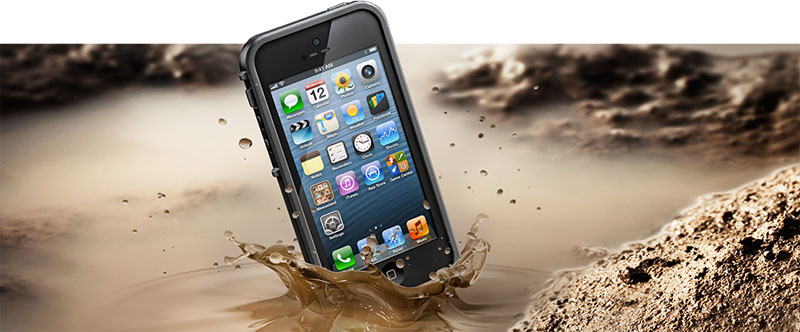 Image source: portplugs.com
This tells about whether the phone is water/dust resistive or not. International Protection marking code IP 55/58/67 tells about whether the phone is protected by dust/water or not. There are some important categories of ruggedness that are:
Water Proof: The phones which do not stop working after immersed into water that are known as water proof phones. There is International Protection marking code which decides the water proof quality of phone. The phone with IpX7 or above can be water proof phones.
Water Resistant: If the phone has water repelling coating then it comes into water resistant category. These phones can resist splash but won't work if immersed into the water.
Dust Proof: the dust protection in mobile phones is decided by the rating from 0 to 6. If the phone has rating 6 that means it is fully protected by dust.
Scratch-Resistant Glass: It protects the screen of the phones by getting scratches. If the screen is comes with a layer of Gorilla Glass protection, your smartphone screen is protected by scratches.
Shock Proof: Some of the smartphones have extra protection from shock by adding layers. By adding this layer of protection, mobiles are safe if they are hit by any surface with force. If you are in industrial job or in risky job then you have to consider this feature for your phone.
---
DISPLAY:
Screen Size:
size of the screen is measured diagonally and it is one of the important factors while buying the phones. There are mainly three categories in screen:
Small Screen: Small screen mobile phones are easy in holding and easy to slip into pockets but the other features like games, internet surfing or watching videos is not user friendly due to screen size. Screen size less than 4 inch is considered as small screen mobile.
Medium Screen: Smart phones with Medium size screens are user friendly. They are convenient in use, to handle, in internet surfing, watching videos etc. Screen size more than 4 inch and less than 5 inches is considered as medium screen mobile.
Large Screen: Screen size more than 5 inches is considered as large screen mobile. They are also known as phablets as they are sort of mixture of phone and tablet. They are best for internet surfing, games and video watching but they are bulky and difficult to carry.
Resolution:
The screen resolution is main factor if you are searching a phone for the use in videos, images and internet browsing. High resolution screen enables HD movies. They are basically of 1920X1080pixels or 1280X720 pixels. Now we have smartphone with Ultra-high-definition resolutions. Most of the recent flagship smartphones have 2560X1440pixels resolution.
The low resolution phones do not have good display. If you want to enjoy videos and games on the device, you must consider smartphone with good display.
Pixel Density:
Pixel density helps in viewing the pictures and graphics in the phones. If the pixel density is high then images can visible sharper and fine. Even you can notice every small detail of the pictures. If pixel density is more than 300PPI then it is high pixel density otherwise low which have blurry images.
Screen Technology or Display Technology:
Screen technology or display technology supports the better performance of touchscreen like sharpness, brightness, life span etc.  There are basically two categories in screen technology:
TFT LCD: Thin Film Transistor (TFT) technology is most common technology for gadgets screen. This type of LCD offers better image quality and high resolution than earlier LCD displays but have poor visibility in direct light or sunlight.
IPS-LCD: In Place Switching (IPS) LCD is better than TFT LCD and has much improved battery life but it is costlier than TFT LCD.
OLED: In Organic Light Emitting Diode (OLED) technology a layer of organic material is added between two conducting sheets and electric pulse is applied due to which screen changes the brightness and color. It is better than the earlier one because it has fast response time, wider viewing angles, higher brightness and also it is light-weighted.
AMOLED:
AMOLED: AMOLED (active-matrix organic light-emitting diode) helps in increasing the battery life with low cost and large display gadgets. With this display technology it's difficult to see into mobile in sunlight.
Super AMOLED: This version of AMOLED display technology uses less power and reflects less light and can easily use in sunlight.
Super AMOLED HD: It has HD resolution of greater than 1280X720 and increases the sharpness and brightness of the display.
Super AMOLED PLUS:  Same way as Super AMOLED HD, it increases the sharpness and brightness of the display.
Retina Display: This type of screen technology is used in apple's phone with resolution 640X960 pixels. It makes the display super sharp and brilliant as pixels cannot identify by the human eye.
---
PROCESSOR
Processor is used to execute the program running in the device or you can say that a processor is brain of the device which controls the entire tasks. High processor speed is good for multiple tasking whereas low processor speed slowly downs the function of the processor.
Number of core in the processor is for executing the task smoothly. There are different categories in the processor: Dual Core, Quad Core and Octa Core. Multi tasking is also possible with the better processor.
In processor, higher the clock speed better will be the performance.
Graphics Processor:
Graphics processor helps in better performance of graphics function in the mobiles such as 3D games and HD videos.
---
RAM
Larger the Random access memory (RAM) would gives the better ability to run several apps simultaneously in the phone which results in smoother performance. Therefore, If you have good CPU but poor RAM then there s shortage in run time memory allocation which results in poor performance.
---
STORAGE
Internal Memory:
The device memory is called internal memory which is used to store installed app, pictures and other private data. More the internal memory results in more storage of apps and data.
External Memory:
The external memory is the expandable memory that can be added to extend the storage capacity of the phone. To extend the memory, microSD card is required.
---
BATTERY:
Capacity:
The capacity denotes the life time of the battery in one charge. It is measured by the unit mAh. More capacity means more life time which reduces the need of the charging.
Removable and non removable battery:
There are two types of batteries in the smart phones. One is removable and other is non removable. Removable battery can be replaced once it dead but non removable cannot replaceable only its service center will help you. Non removable battery has extra protection from dust and water as there is less opening to mobile's internal parts.
Types of Battery:
Nowadays smart phone comes with two types of battery:
Li-Po (Lithium Polymer): They are thinner and flexible and most suitable with curved design. These kinds of batteries hold more charge than Li-ion.
Li-ion: These batteries are less costly and required low maintenance but have less charged than Li-Po.
---
OPERATING SYSTEM:
Operating system is most important part of any gadgets. It provides platform between applications running in mobiles and user. There are basically four types of operating system available in phones:
Android: Android is the most widely used open source operating system. Android users can enjoy more than 100 thousands apps from play store. It has full customizability. There are different versions of android such as ice cream, kitkat, lollypop etc.
iOS/ iPhone: all the apples phone has iOS operating system. All apps run very smoothly in this OS. One can download app from iTunes Stores and enjoy the iOS phone.
Windows phone: Windows OS is creation of Microsoft. The working in the windows phones gives little bit same experience of the laptop.
Blackberry: All blackberry mobiles have the blackberry OS which is unique gesture-based interface. The blackberry service is known as BBM.
---
CAMERA:
Camera is important part of any smart phone. A camera with high resolution is preferred while shopping a phone.
Resolution: The resolution of the camera is measured in pixels. Higher the pixels better will be the camera and its image quality. The resolution refers to the light sensor of the camera has receptors per given area.
Flash: With the help of flash one can click the picture even if light is not there. There are many types of flash such as LED, Dual LED, XENON flash etc.
Rear Camera: Rear camera is for clicking the picture. Nowadays every mobile phone have at least 2MP camera. The quality of picture is depend upon the lens of the camera.
DID YOU KNOW? The highest resolution of mobile is Nokia Lumia 1020 which is of 41MP.
Front Camera: Front camera is usually used for taking selfie and video chatting. Earlier the front camera came with 0.3MP or VGA but for decent and clear videos one need at least 2MP front camera.
Video Recording: The camera of the smartphone can also record the videos in HD/ Full HD and these videos have good quality sharp and clear images. The frame rate of the video is 30-120 frames per seconds which gives smoother videos.
Autofocus: With the help of this feature the camera automatically judge which object to focus on. Some mobiles have camera with the face detection.
Touch Focus: In Touch focus one can manually select the object which he/she wants to focus.
Brust Mode: This mode of the camera allows you to capture the multiple pictures in short duration of time (few seconds) and in rapid mode.
Zoom: There are two type of zoom in the camera, one is optical zoom and other is digital zoom. Most of the camera comes with digital zoom. In optical zoom, the camera adjusts lenses to zoom in on the specific object which gives better image quality. In digital zoom, camera zooms with the help of software on the object which results in degraded quality of image.
Image Stabilization: There are two kinds of image stabilization, one is optical and other is Electronic.
Optical image stabilizing is highly effective method for minimizing the blurring of the image and videos due to shaking of camera while clicking it. Electronic Image Stabilization is lesser effective method then Optical one.
HDR: HDR is used to add extra effect on the image while capturing the image. The image after using HDR is not natural but it looks good.
Panorama: With the help of panorama photography one can capture image 360 degree in a single photograph. It stitches multiple image together and create a single image.
---
CONNECTIVITY:
Wireless Connectivity: Bluetooth, infrared, Wi-Fi etc are the wireless connectivity in mobile devices.
GPS with A-GPS: GPS is used to know and locate your current positions. Some of the apps are based on the GPS system like Facebook. GPS has full advantage of Google Maps and Map My India which accurately pin-point current position.
Bluetooth: This type of wireless technology is used to exchange the data between two devices over a short distance. The data will only exchange if the Bluetooth is enabled in both the devices.
USB: The USB port allows transferring the data and files from mobile to laptop or vice versa. There are two types of USB one is Mini and other is Micro. With USB port there is no need of USB pendrive.
Wi-Fi Direct: With the help of Wi-Fi direct you can print documents, share images, videos, files etc. with printer, TV, camera etc without even connecting a wire.
NFC: In Near field communication or NFC a radio connection is established between two devices by touching them together or bringing them into close proximity.
HDMI: With the help of HDMI cable one can connect HDMI TV with smartphones.
DLNA: Digital Living Network Alliance or DLNA allows the high definition TV and other DLNA enabled devices with the smartphones. By this function one can share videos, movies or other high MB data. You can also enjoy FM radio with this.
---
NETWORK:
Cellular connectivity: Cellular connectivity helps in connecting a device wireless which gives the service like GSM, 2G, 3G, and 4G etc. It allows mobiles to change the SIM card whenever want and also the call will not disconnect while one is moving.
2G: Many smart phones support 2G which can help a phone to connect with the internet. This service will unable to use the 3G services. It provides slow internet access up to 114kbps.
3G: This is the service which gives fast internet browsing and other facilities. If 3G is not available anywhere then the device can use 2G services. It gives up to 42.2mbps speed.
4G/LTE: This service provides very fast internet access up to 100mbps.
Single SIM vs Dual SIM: In single SIM mobile, user can only use one SIM for call and internet surfing but in dual SIM, the user can use up to 2 SIM for calling and internet surfing.
---
MULTIMEDIA:
FM Radio: For connecting a Smartphone with the FM Radio, a facility is provided in the phone. You can easily connect with Fm and tune the channel which you want to listen. It can also work while you are travelling and the channels are available at that area.
FM Recording: Nowadays FM radio in the Smartphones has facility of recording the voice from the radio station.
Audio Player: Audio player allows the user to listen the songs that are stored in the memory of the phone. These audio players can support AAC, WAV, MP3, WMA files of music.
Speaker: Speakers help in playing music or call voice in a loud way. There are two kinds of speakers in the mobile phones, one is Stereo and other is mono. Stereo can give the direction and depth similar to real world while playing music but mono cannot.
---
SENSORS:
Accelerometer:The accelerometer sensor is used to detect the orientation of the device which helps in rotation of the screen as per users use. It also allows the features like shaking the mobile for changing music.
Ambient Light Sensor: It automatically sets the brightness of the screen according to the light in surrounding or as per battery life.
Proximity Sensor: It sense the position of the phone against the user's face and disables the touch screen function so that the call do not abrupt accidently during call.
Gyro Sensor: It works with the help of accelerometer for detecting the rotation. This helps in playing the games for tilting the phones.
Digital Compass: Digital compass helps in the navigation or map for finding the north direction.
Mobile Phone buying Guide: What to consider while buying a phone
Filters